CASE STUDY : IMPLEMENTING 'LEARN' AT LYNEHAM'S DEFENCE COLLEGE OF TECHNICAL TRAINING

Overview
The Defence College of Technical Training (DCTT) educates personnel from all three UK military services, providing specialist training from its four schools (DSEME, DSAE, DSCIS and DSMARE). They cover Electro-Mechanical Engineering; Aeronautical Engineering; Information, Communications and Technology; and Marine Engineering, respectively.
DCTT embarked on a multi-million-pound project, 'LEARN', during 2015 to build a training establishment at the former RAF Lyneham. One element of the project was a training system operating with OFFICIAL status. Centerprise International (CI) delivered a comprehensive range of the latest technologies including a flexible wireless network (utilising a secure private cloud alongside community cloud access), managed internet access, Virtual Learning Environment (VLE), Virtual Desktop Infrastructure (VDI) and Computer Aided Instruction (CAI) classrooms. The solution exceeded expectations and was delivered ahead of time.
"The ICS Jewel in the Crown" "LEARN provides a state-of-the-art platform for DCTT training and education delivery into the future, comprising of computer-aided instruction (CAI) classrooms, dual firewalls, dual core switching and dual server farms. It also offers 90 km of external cabling to connect buildings and 27 km of internal data cabling supporting around 7,000 data points and 450 wireless access points – all delivered by CI ahead of deadline, on budget and above specification.
Excellent results
Students now have the freedom and flexibility to learn outside the classroom. Laptops connect onsite via the wide wireless network, or remotely via a secure VPN connection. Users can connect to the VLE 24/7 on either issued or personal devices, from anywhere with an internet connection.
The system is fully-scalable and expandable, with the potential of more DCTT schools being added to the core, thus extending the training benefits to other training establishments.
Challenges faced
The implementation had to meet aggressive timelines: the contract was awarded in February 2015 and CI delivered the first phase by August 2015 within an existing building, and the second core installation a month later.
The Authority's plan changed late in the programme due to staff and students being transferred to the new site early. The training had to start before Initial Operational Capability (IOC), and at much higher quantities than originally intended. CI accelerated the deployment of the system setup with services and assets being built, deployed and issued to meet the changing requirements.
The system had to meet the Government's Security Classification, protectively marked at OFFICIAL/OFFICIAL-SENSITIVE, which is the standard used to protect more than 80% of the information shared across the UK public sector.

A comprehensive solution
Application hosting services via laptops, desktops and tablets.
A secure wireless network that covers training buildings, communal areas and accommodation blocks. Connections are provided at 802.11ac standard to both the OS and Guest WIFI networks via over 450 access points.
Access to learning in multiple locations through the delivery of Virtual Learning Environment (VLE), based on open source Moodle technology.
Access to OFFICIAL content from off-site locations through the VLE platform, enabling distributed/distance teaching and learning. Authorised users can access all their relevant training material 24/7 from any location with internet access.
On-site to access OFFICIAL-SENSITIVE content whilst in accommodation blocks and communal areas, through an issued client device that exploits a VPN connection, inside another secure VLE, allowing only authorised users to view the material.
An inner and outer firewall sandwich design with anti-virus and intrusion protection systems, to enable O/OS accreditation.
Support for remote and recorded training using Cisco WebEx platform, enabling live lectures to be broadcast to multiple classrooms or remote users (up to 250 students) on any device.
Guest WIFI, enabling BYOD options with managed internet access for students and staff, so they can connect their personal devices to the internet via the system. Guest speakers and trainers can also access the VLE on their devices via the internet. Foreign military students can use an "Off-System" managed device and connect to the VLE via the guest network, therefore lowering the potential risk of system vulnerabilities.
A Virtual Desktop Infrastructure (VDI) reduces licensing costs for expensive applications. Instead of procuring a licence for every issued device, a handful of VDIs can be deployed and users log on via their desktop. VDI also allows training to take place on systems not compatible with the Win 8/10 environment. Clients such as Linux, as well as thin and zero-clients, can be used. Specialised software (security courses), can be used in a safe and contained "sandbox" environment.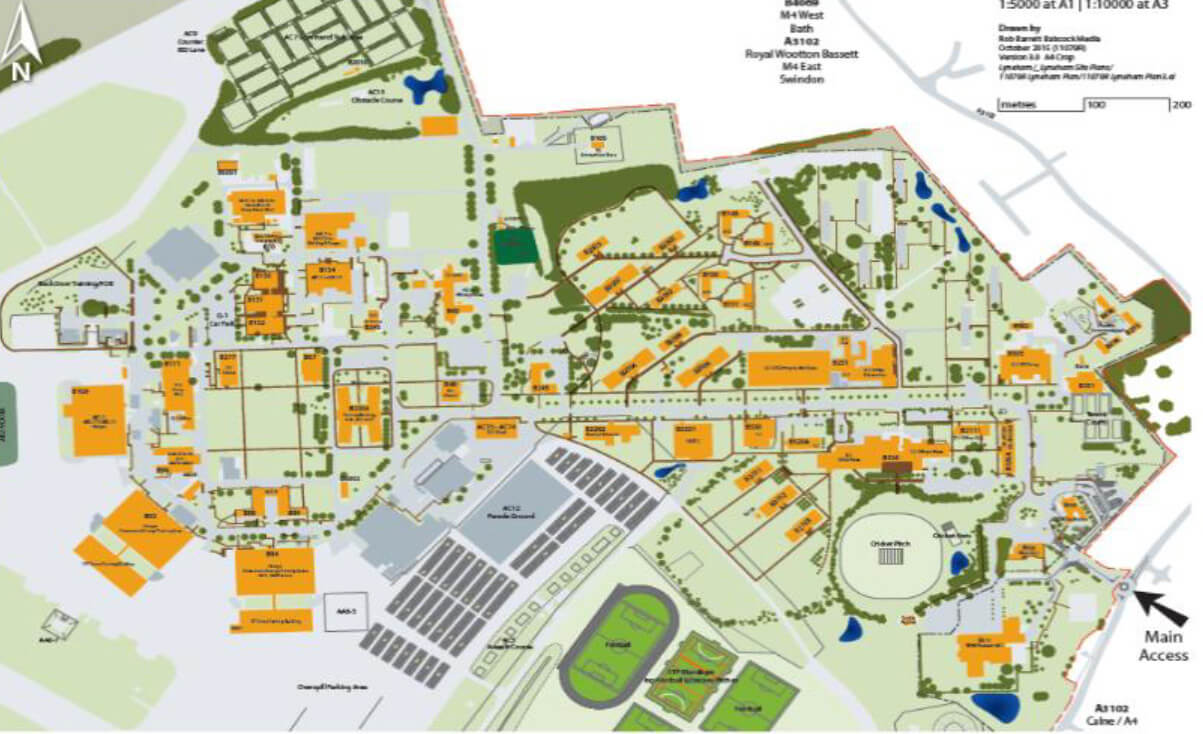 Site Map: Over 95% of buildings have WIFI coverage.
Also includes the REME Museum
Ongoing support
The solution is fully-supported for three years with an option to extend for two more years. There is an on-site team providing first and second line support (including helpdesk services) and a remote third line support team.
The onsite Centerprise team currently supports more than 160 classrooms, 3,000 users and in excess of 5,000 assets and peripherals at both MoD Lyneham and MoD St Athan. The support cover is flexible enough to cover routine working hours, and extends to week-ends and evenings, when required.
Find out how we could help you