CENTEPRISE INTERNATIONAL SEES MAJOR SUCCESS WITH £1.4M HARDWARE REFRESH AND INSTALLATION SERVICES FOR THE HYDE GROUP

Overview
The Hyde Group (THG) is an award-winning provider of homes and makes a significant contribution to meeting housing needs and improving people's quality of life. Hyde is one of the largest housing associations working in England, owning or managing circa 50,000 homes in London, Kent, Surrey, Sussex, Hampshire, the East of England and East Midlands. They provide homes and services to over 95,000 customers. Hyde is a member of G15 – a consortium of London's leading housing associations that collectively house 1 in 10 Londoners.
Hyde has a mixed workforce which splits into three broad categories – staff permanently based at Hyde office locations, staff that work from both Hyde offices and remote (home) locations and a mobile workforce. Some staff have a requirement for enhanced processing capabilities – Power Users, and this was reflected as an option in the Hardware Requirements. Hyde operates a Hot Desking environment which means that the number of available desk positions is actually less than the total number of Hyde staff.
Excellent Results
What set Centerprise apart during the tender process, was our ability to demonstrate how we could provide a solution from a single vendor. Centerprise supported Hyde right from the start, pre-staging the devices and adding to Hyde's corporate domain, in addition to prior geas minimising packaging by decanting the equipment and delivering to the site in crates (1 crate per desk). With swapping out and upgrading the laptops, Centerprise provided a personalised carry case with the users' name on it and brand new headsets.
Centerprise were able to offer complete Device-As-A-Service (DaaS), transforming Hyde's assets company-wide to futureproof their internal operations. Utilising our SCCM Distribution facilities in Wales, we fully removed and disposed of all redundant devices, ensuring all data was backed up, encrypted and the old hardware unrecoverable. Installation took place in the evenings and weekends to cause the least amount of disruption to their business, and was supported by a team of skilled engineers from Centerprise to walk the floors and provide end-user support post installation.
Background
Centerprise International (CI) were awarded the contract for the provision of the supply and installation of PC Hardware and Value Added Services for a period of three years, with an option to extend for a further one year. An anticipated start date for the Hardware Refresh is April 2019. Hyde took the opportunity through this procurement process to adopt a DaaS operating model, effectively outsourcing support services, with the overriding objective of ensuring that Hyde's business continues to operate efficiently. Thereby reducing business as usual (BAU) dependencies on IT departments and freeing valuable resources for more strategic transformation projects.
DaaS core services provided to Hyde:
Pre-Staging (Asset Tagging and Imaging)
Deployment Services (Installation, Removal of Redundant Devices and Initial Support)
Help Desk Support (Single point of contact for all services)
Enhanced Warranty (Onsite engineering with full reinstatement)
Starters/Leavers Program (Including stock holding of pre-imaged devices)
Asset Management (Full management of assets and reporting)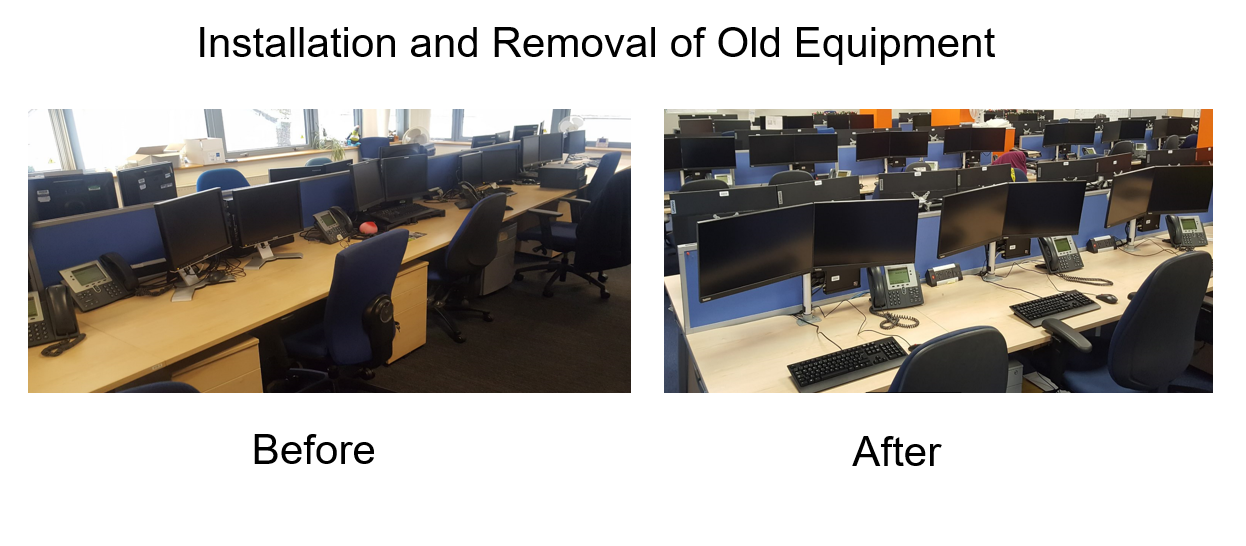 The AV refresh is still ongoing, with more meeting rooms being upgraded. Centerprise and THG hope to continue this great partnership for future projects.
Challenges faced
The implementation had to meet aggressive timelines
The implementation had to take place out of hours, over the weekends and in the evenings to cause the least amount of disruption across 15 different sites
Prior to Centerprise working with Hyde, Hyde had a previous Desktop refresh which wasn't successful so it was crucial that Centerprise exceeded their expectations to go above and beyond to deliver a robust solution to Hyde.
Comprehensive Solution
Before 1,100 devices were installed, imaged and asset tagged, alongside 2,200 monitors, Centerprise took into consideration the pre-staging of the equipment to optimize the installation.
It was important for Hyde to enlist the support of a trusted technology provider to roll out the move to Windows 10, and the introduction of Skype for Business &Office 365.
Moving away from standard telephony to unified comms was a completely new setup for the staff so onsite training and a floor walk was provided to ensure staff were able to utilize the new hardware and software once Centerprise had finished the installation.
Asset Retirement for Redundant IT Equipment
Centerprise took a High level audit/acceptance of assets being removed from site and organized secure transportation of all assets to a secure Centerprise facility. Full audit of devices including serial numbers and components, CPU and memory. The assets were detagged and indentification labels removed. Data was erased using CESG approved Blancco. The devices, depending upon classification were either disposed or remarketed with a resale value returned to Hyde. Provision of audit reports, Data Erasure Certificate, WEEE Certificate, and asset movements, destruction and disposal were all part of the wider services we provided to Hyde.. .

AV Refresh
Hyde also took advantage of the opportunity to refresh the AV technology across their meeting rooms with the latest AV/UC in line with their rollout of
Office 365
and a wider adoption of
Skype
for business and
Microsoft Teams
. A scope of devices, wall brackets and video conferencing equipment were provided by Centerprise alongside an enhanced support service
The overall project was a total investment of £1.4M, including full project management of the entire process and
on-going support.
Ongoing support
A 3-month Hypercare service was included to ensure that customer service, data integrity and the implemented program were all going smoothly after installation.

3 Year Enhanced Warranty service
As with any brand new installation, reassurance is key for the client so a 3-year enhanced warranty service was also included, entitling Hyde to free re-installation should they need it

Warranty
Replacement devices issued to Hyde on a swap-out-basis, with the faulty device collected and replaced on next business day basis
Starters and Leavers (IMAC)
Centerprise manage the provision of kit to new starters, retrieval of kit from leavers and swap of devices for any changes to work area (such as desktop users moving to laptop). New devices are asset tagged, delivered and installed at users location.
Find out how we could help you