Panasonic TOUGHBOOK is the European market leader for rugged notebooks and tablets, for emergency service specialists. They maintain partnerships with the police, delivering award-winning, vehicle-mounted, and handheld rugged mobile computing solutions. With over 20 years of history working in that sector, their provision of modern, built-for-purpose technology is vital to today's digitally enabled emergency services.
Centerprise International's work with the government and its defence and emergency services is well documented. By merging our wealth of knowledge with TOUGHBOOK's devices, we have the solutions for you. Our highly trained product specialists can advise and guide organisations through every step of the process, including continuing maintenance service and refresh recommendation(s).
Discover the CI solutions and TOUGHBOOK products that are tailor-made to solve your problems.
TRUSTED BY EMERGENCY SERVICES SPECIALISTS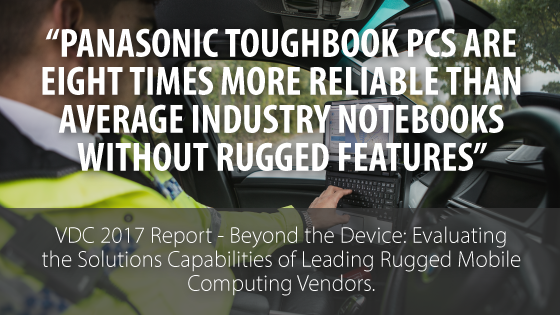 TOUGHBOOK notebooks, tablets, and handhelds perform where other technology fails. Military-grade durability, reliability, and execution instil confidence that they are always ready to go, improving the productivity of your workforce. World-class connectivity guarantees your specialists will have access to data and systems, even in the most hostile of environments and situations.
CITY OF LONDON POLICE
The City of London Police force wanted to deploy mobile technology to help officers spend more time with the public and reduce time-consuming administration and costs. They utilise the TOUGHPAD FZ-M1 TABLETS as it's rugged features, along with world class durability and performance, make it the perfect device for their needs.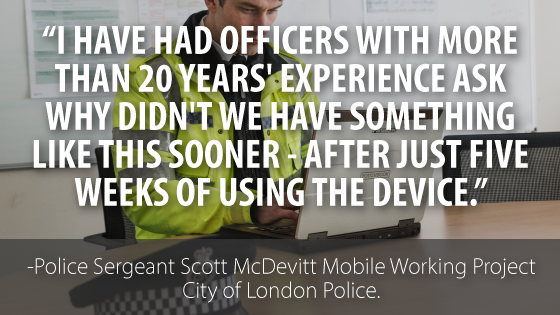 TOUGHBOOK offers a wide range of fully rugged, crash-tested, fixed or easily transferrable docking solutions, for police vehicles and other emergency service vehicles, that meet all requirements. Every TOUGHBOOK dock is put through comprehensive stress and vehicle impact testing, and comes with Panasonic certification.
TOUGHBOOK is the perfect device for you if you are:

Facing high rates of device failures out in the field

Frustrated with the performance of your current mobile computing solution

Experiencing connectivity issues




Additional benefits include:

Extended battery options

End-to-end warranties

Crystal clear touchscreens

Lightweight design

Exceptional security

Accessories for personal customization